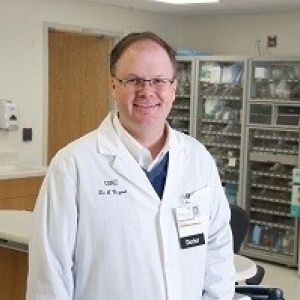 For Andy Nugent, Iowa has always been the destination, not a jumping-off place.
Nugent, who grew up in the small town of Sheldon in northwest Iowa, earned a bachelor's degree in biochemistry at the University of Iowa in 1992. From there, it was on to medical school at the UI, where he discovered the clinical specialty that shaped his career.
"My best friend was a paramedic," Nugent says, "and he got me hooked on the adrenalin rush that is part of emergency medicine. You never know what's going to come through the door, and that really appealed to me."
At the time, however, UI Hospitals and Clinics did not have a residency program—advanced specialty training following graduation from medical school—in emergency medicine. Nor did any other hospital in Iowa.
Nugent completed an emergency medicine residency at Texas Tech University Health Sciences Center in El Paso, with the goal of establishing such a program at the UI. He recognized that providing the best emergency care in hospitals across the state required a top-notch residency program to attract and keep interested medical school graduates in Iowa.
Returning to the UI as a faculty member in 1999, Nugent worked tirelessly to elevate the profile of emergency medicine, both on campus and around the state.
His leadership and advocacy has paid off tremendously. An emergency medicine residency at UI Hospitals and Clinics began in 2003. In 2004, Emergency Medicine was established as its own academic department in the UI Carver College of Medicine. And in 2008, the 35-bed, state-of-the-art Emergency Department opened at the hospital complex.
Today, as chairman of the department, Nugent oversees emergency medicine services that treat approximately 60,000 patients each year. Emergency medicine is one of the most popular electives among UI Carver College of Medicine students, and it's one of the top specialty choices among fourth-year students choosing medical residencies. The department's accredited residency program currently trains 27 physicians and is considered a model program.
And Nugent has helped recruit and train many of the emergency doctors who now work at hospitals around the state—ensuring that more Iowans have access to the best emergency medicine when they need it.
"I've been fortunate to have had opportunities to help improve emergency medicine education, training, and practice here at the UI and across Iowa," Nugent says. "This is exactly where I want to be."