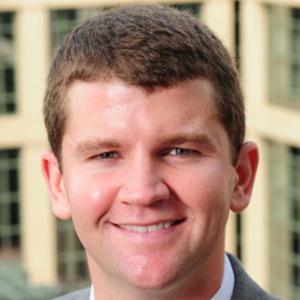 When West Des Moines native Jon Raftis thinks back on his undergraduate education in the University of Iowa's Tippie College of Business, he realizes how much the faculty prepared him for life in the working world. "They weren't solely concerned with making sure I understood academic concepts; they wanted me to be able to jump into the workforce, exhibit strong interpersonal skills, and add value."
Raftis graduated with a degree in finance in 2010 and also earned the risk management & insurance certificate offered through the university's Vaughan Institute. Named for insurance pioneer Emmett Vaughan, this institute focuses on providing students with industry mentors, internships, and placement in this important Iowa industry.
As business development lead at Professional Solutions Insurance Services in Clive, Iowa, Raftis sees the value of his education at work first-hand. "Critical thinking and analytical skills were, of course, a big part of my undergraduate educational development," he explains. "Perhaps even more important, though, were the extra-curricular opportunities that were afforded to me by the University of Iowa. I believe those opportunities helped develop in me the skills necessary to be an employee who makes valuable contributions."
Raftis will soon have another University of Iowa diploma on his wall. He is scheduled to graduate with an Iowa MBA this spring after taking courses at the John and Mary Pappajohn Education Center in downtown Des Moines. Raftis is one of 800+ working professionals earning an MBA from Iowa through our locations in Des Moines, Cedar Rapids, and the Quad Cities.
Raftis was impressed that Iowa's MBA program in Des Moines offers the same level of faculty expertise and attention as the undergraduate program in Iowa City. "I was able to put my classroom learning to work right away. I learned so much, not just from the faculty but from my peers who are working professionals in the Greater Des Moines community where I live and work." From Dowling Catholic High School to University of Iowa graduate, this young professional is making the most of his Iowa business education.