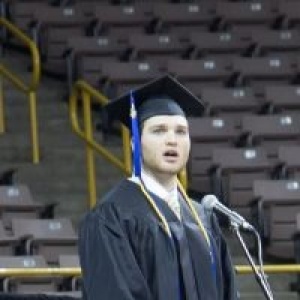 Jordan Brauns was raised as a farm boy in Muscatine, Iowa. After graduating from Muscatine High School in 2007, Brauns wasn't sure what he wanted to do and while he had given some thought to going to college, a long list of excuses held him back from enrolling. It wasn't until a volunteer experience in Haiti changed his life and Brauns realized that the only excuse in his way was himself.
After being confronted by true helplessness and poverty in Haiti, Brauns knew he needed to take steps to change his future for the better. "That experience forced me to look deep inside and admit to myself, that although I had no money, I did have the ability to earn it. Although I was no genius, I could study harder and longer than those who were. And although I had no help, I had the resources to help myself."
Brauns enrolled at Muscatine Community College and two years later transferred to the University of Iowa. He worked multiple jobs to be able to afford his education, including working as a Nursing Assistant in the Surgical Intensive Care Unit at the University of Iowa Hospitals and Clinics and working odd jobs for farmers back home in Muscatine.
This past December, Brauns became a University of Iowa Tippie College of Business graduate and gave the commencement speech. The message he wanted to share with his fellow graduates was that "achievement and success are not natural endowments. They are the result of the only outcome to which you are entitled; the product of your intellect."
"The experiences I gained while at the University of Iowa proved to me that I can be successful at anything I set my mind to. You just have to put in the work and time to make your goals a reality. Because of the education I received at the Tippie College of Business at UI I feel prepared to face new challenges."
It was because of those odd jobs he worked for farmers back home that he landed his first job as a UI grad. He now works for the Iowa Farm Business Association providing accounting services, financial analysis and consulting, tax consulting and tax preparation for farmers and other small businesses.
Currently, Brauns is completing his consulting training for the Iowa Farm Business Association. He is looking forward to working with farmers in the Nichols, Iowa area - his soon to be new territory.