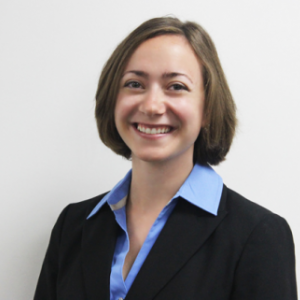 Iowa native Kay Oskvig pursued a legal degree because she wanted a career that would require critical thinking, research and giving back to her community.
And, after graduating from the University of Iowa College of Law in 2014, Oskvig is fulfilling those desires through her work with Cambridge Investment Research Inc., an Iowa-based broker-dealer firm in Fairfield.
As associate director of their corporate legal department, Oskvig helps the company thrive within Iowa by handling a variety of legal matters, including negotiating contracts, reviewing agreements and evaluating business risks with various deals.
Oskvig says the education she earned at the College of Law and her volunteer work through the school's Citizen Lawyer Program were key to helping outline her goals for the future.
"I think volunteering is one of the best ways to learn not only about the community but also yourself," says Oskvig. "I found the professors were really supportive of volunteer work and other experience, and many of them encouraged students in the class to participate in out-of-class volunteer work if they had interest in a particular organization."
That drive to give back motivated Oskvig to stay in Iowa after graduation to do legal work for Cambridge — a private Iowa firm that she says makes community engagement a priority.
"I think making an impact in the community is really important, and a lot of that came through during my education at Iowa as well," Oskvig says. "Whether you're volunteering for a shelter or doing pro bono legal work, it's important to give back."
Oskvig also said she maintains the relationships she built with faculty to this day, which has already proved helpful in her professional career.
"The professors and administrators at Iowa really care about the students," says Oskvig. "I learned a lot during law school, but I've also reached out to professors after graduation and found them to be readily available and willing to answer any question, big or small."
Ultimately, Oskvig says she's happy to be using her legal expertise to help a company that's as invested in the community as she is.
"Iowa is a great place to work, and everywhere I've worked in the state has been full of welcoming people," Oskvig says. "Cambridge offers many benefits, but I enjoy working with a team of attorneys and associates who want what is best for the client and the community."