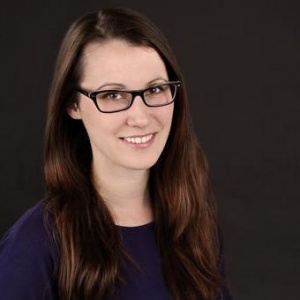 Life in a community can change quickly, whether it's an important city council vote or a traffic accident. With so much going on, staying informed can be difficult for the average citizen.
That's where journalists like MacKenzie Elmer (BA 2012) make a difference.
Elmer writes about the city of Des Moines for the Des Moines Register, covering metro and county government. She previously covered breaking news, jumping in the car at a moment's notice to follow a fire or shooting.
One such instance came in November, when two Des Moines Police Department officers were tragically shot. Confusion broke out as others on the police force worked to find the shooter. Elmer had just switched from covering breaking news to city news, so the story was outside her required area. But instincts won over.
"I couldn't help myself – I turned on the police scanner," she said, and when she located officers pursuing the shooter in Redfield, Iowa, she jumped in her car and sped off, alerting the newsroom on the road. She reported the story and attended the funerals for the Register.
Attending the funeral of two celebrated police officers was a difficult task, she said. But she knew these stories deserved to be told.
She was prepared for this kind of reporting by her time at the School of Journalism & Mass Communication, which she described as "fantastic" experience. Also indispensable was her work writing long-form journalism for the Iowa Center for Public Affairs Journalism – IowaWatch.org, working under the mentorship of professor and Pulitzer-Prize winning former reporter Stephen J. Berry.
One skill she learned was that of interviewing, especially on difficult subjects.
"Interviewing is a huge art, and you have to find your own style," she said. "I try to show my best traits and try to be easy to talk to."
It is immensely rewarding when sources respond in a genuine and heartfelt way, she said.
"I'm always humbled when people invite me into their lives and personally share," she said. "That is truly something that I cherish and remember as I'm going throughout my career."
After graduating from the UI, Elmer landed at the Burlington Hawk Eye, where she interviewed Gov. Terry Branstad within a month of the start of her career. She also wrote for the Associated Press and the Waterloo-Cedar Falls Courier, where she won two journalism awards for a series on mental health.
She aims to change the public's perception of journalism, and she has already begun this work with regular visits to Southeast Polk Middle School, where she talks about what journalists do.
"When a change affects [people] positively or negatively, we're the deliverer of that information," she said. "Journalism is a huge component of the democratic process."