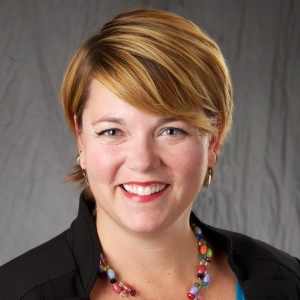 Patients in rural communities who are living with advanced cancer might not have regular access to renowned treatment centers such as the University of Iowa Holden Comprehensive Cancer Center, or evidence-based symptom management support.
Using a web-based intervention called Oncology Associated Symptoms & Individualized Strategies (OASIS), UI College of Nursing Assistant Professor Stephanie Gilbertson-White, PhD, APRN-BC, is helping these patients to learn more about their cancer symptoms and in turn apply evidenced-based symptom self-management strategies.
"My research has demonstrated that people in Iowa living in small towns and rural areas have different needs when it comes to treating their cancer and managing the side-effects that come with cancer treatment," she says. "Based on these findings, I developed OASIS, where patients are given access to a website to learn about cancer symptoms and non-pharmacological approaches to managing their symptoms. They are taught how to monitor their symptoms and look for patterns in how their symptoms change when they try different management strategies."
As part of the program, patients also meet weekly with a research nurse who helps them evaluate their progress in self-managing their cancer symptoms, troubleshoot barriers they may encounter while implementing symptom self-management, and enhance patient-provider communication. These weekly meetings take place via a secure video conferencing software and enable the patients to personalize their symptom management plan to their own unique situation.
Through OASIS, Dr. Gilbertson-White is able to track how patients respond to specific symptom management plans and assess how symptoms and strategies interact over time through data-visualization.
As part of her effort to mentor tomorrow's nurse researchers, nursing students are deeply involved in all aspects of Dr. Gilbertson-White's research.
"Students have worked with me to develop OASIS, recruited participants for my studies, collected data through questionnaires and interviews, and have analyzed data and helped disseminate the findings through presentations and publications," she says. "In addition, I have mentored students working on their own projects within the context of cancer symptom management who were participating in the Iowa Biosciences Advantage and the Iowa Center for Research by Undergraduates. Having students engaged in research helps me remember why we endeavor to do this work."
And when it comes to increasing student interest and involvement in nursing research, Gilbertson-White doesn't stop there. She's recently been appointed director of the Young Scientist Program—an initiative in the College of Nursing that aims to engage students with faculty research. The program, which is supported by a donor investment from alumna Nancy Creason, helps support high achieving undergraduate nursing students in pursuit of independent research projects. Since its inception, the college has seen a significant rise in students who are interested in research.
"Given the growth of the program, we've expanded the definition of young scientists to include all undergraduate students participating in College of Nursing research and have renamed the funded research program the Creason Fellowship. In addition to matching students and faculty, the program will also be sponsoring informal educational events for the young scientists to support their development as researchers," she says.
Students who participate in the program are better able to see how research impacts their work as nurses.
"It demystifies what nursing research is. By expanding the program our hope is that students will better understand how critical research is to the practice of nursing and that more students will consider a career in research," she says. "These students go on to be better consumers of research and can advocate for evidence-based practice in their clinical settings."