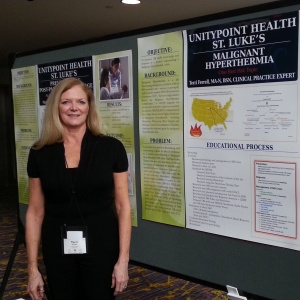 For Terri Ferrell, a Hawkeye family history in health sciences runs deep. Both she and her sister are graduates from the University of Iowa's College of Nursing; her brother attended the Carver College of Medicine; and, her grandfather, father and uncle all graduated from UI's College of Dentistry.
"There was no question where I wanted to go to school. My family has always been Iowa Hawkeyes," Ferrell says. "It was a forgone conclusion that my sister and I would choose nursing school at the University of Iowa."
Ferrell (BSN ′74, MA Nursing ′75) currently practices at St. Luke's Hospital in Sioux City, Iowa. Of her 42 years in the nursing profession, she has spent the last 19 as an operating room (OR) nurse. Her primary role is serving as the clinical nurse expert for the OR—interfacing with all the different departments and disciplines as they strive to provide the best possible care for their patients.
"I enjoy bringing all these 'minds' together to consult and create our strategies," she explains. Ferrell also teaches preoperative nursing and helps train the hospital's operating room staff.
Ferrell credits UI's College of Nursing for providing a strong foundation that led to a long, diverse and successful career.
"I had the best nurse role models. Faculty were strong, knowledgeable, assertive, articulate and creative educators, researchers and leaders who helped me grow, personally and professionally, and enabled me to find my passion and develop my skills," she says. "The support from my professors truly helped guide my life and career."
Ferrell states that her education opened many doors and opportunities: conducting grief counseling; caring for children and their parents on the pediatric oncology unit; working with the state medical examiner's office during traumatic situations such as the crash of United Flight 232; and volunteering with the American Red Cross during catastrophic events such as 9/11, Hurricane Katrina, and various Iowa tornadoes. Adding to the diversity of her career, Ferrell also taught at UI's College of Nursing as well as St. Luke's College in Sioux City.
"It was my educational experience during both my BSN and master's studies that prepared me to have the joy and flexibility to practice nursing in such a vast number of situations."
Although retirement isn't too far down the road, Ferrell doesn't plan on slowing down anytime soon. She's already looking forward to having more time to volunteer her nursing skills for organizations like the Red Cross.
"My nursing career has been incredibly fulfilling. Being able to care for and comfort people, as they journey through life and some of its challenges, has been my life's work. I am so proud to be a part of this noble profession."